THE PROJECT
STAGE designs, develops and trials an ICT platform that provides audio-visual services for elderly people who can enjoy cultural events even in case they have mobility problems. Users of the platform are
cultural institutions (CI) from CY, IT and HU who provide content to the platforma in the form of live events or recorded videos
a sample of elderly people from the same countries who access the content provided by the CIs
The results of the project are expected to enable a European-wide (at least) service targeting elderly people.
FUNCTIONALITY
The STAGE platform offers the following functionalities:
Video upload and publication. CIs can offer videos with a Creative Commons or Copyright licence. End users access the content and may be required to pay for it depending on the CI's decision
Live event creation and publication. CIs can create live events and offer them for free or at a cost. Live events can be recorded and join the pool of videos managed by the CI
Scheduled service creation and publication. CIs can created TV-like schedules of videos and events. End users can "tune-in" a channel of a CI and watch "TV on the web" with the same user experience as in traditional television
Content market. CIs can post some of their content for other CIs to acquire and re-use. Of course use of content is regulated by a licence that includes the way the licensor is remunerated when a licensee gets a benefit from the licensed content.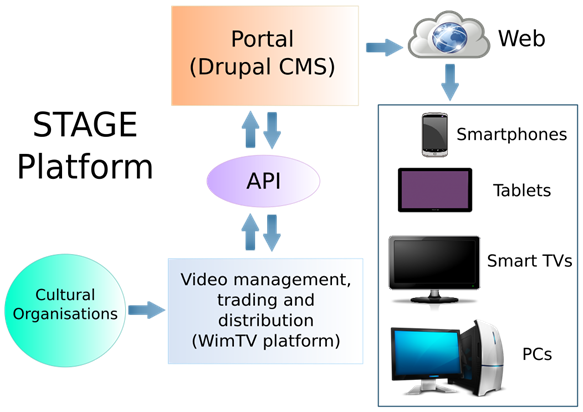 PARTNERS
| | | |
| --- | --- | --- |
| Participant organisation name | Organisation type | Country |
| National Research Council | Research | IT |
| CEDEO di Chiariglione Leonardo e C. | SME | IT |
| Accademia Nazionale Cultura Sportiva | End User | IT |
| SIVECO Romania SA | Large Company | RO |
| Georama LLC | SME | CY |
| ASM Market Research and Analysis Centre Ltd. | SME | PL |
| Pannon Business Network Association | End User | HU |
| KARMA Interactive Ltd | SME | HU |
| Materia Group – AgeCare (Cyprus) Ltd | End User | CY |